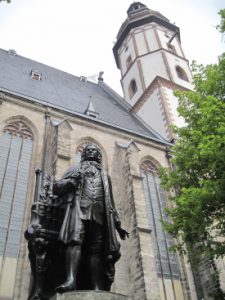 The Esterhazy Singers celebrated the city of Leipzig and its musical legacy. The programme featured composers, Johann Sebastian Bach, Felix Mendelsohn and Max Reger, amongst others, who all have strong connections to the city.
JS Bach's Jesu, meine Freude, BWV 227, is the longest and most complex of Bach's 6 Motets, and is a setting for 5 voices (SSATB) of a very personal set of verses by Johann Franck , c 1650 alternating with chorales taken from the Epistle to the Romans, Chapter 8. It is thought to have been composed for a funeral in St Thomas' Church, Leipzig in 1723. The extra soprano part adds to the richness and complexity of the structure and the wide dramatic range present in this motet.
Mendelssohn, who was also active at Leipzig's St Thomas' Church, composed his anthem Hear my prayer for a first performance in London in 1845. The piece, for soprano soloist and SATB choir, is particularly well known in this country for the 1927 recording of O for the wings of a dove by the boy treble Ernest Lough.
Max Reger, a very prolific composer of orchestral, organ and choral music, was director of music at the university of Leipzig from 1907-1908, and professor at the Royal Conservatory in the city. He later died there suddenly in 1916. His Drei Choere (three choruses) were written in Wiesbaden in 1892 are settings of the work of 3 poets, Anton Mueller, Franz Engel and Nicolaus Lenau. His music is little known in the 21st century, though he saw himself as in the tradition of Beethoven and Brahms, with pieces employing their classical structure, but with the extended harmonies typical of Liszt and Wagner and the addition of counterpoint which owes much to Bach.
Andrea Brown conducted the Esterhazy Singers at St Giles Cripplegate, London EC2Y 8DA.